BECOME AN AUTHORIZED SEAL KING DISTRIBUTOR
We understand and appreciate what it means to run a small business. That's why our primary goal is to support our brand ambassadors—the small businesses that believe in our products, our mission, and our brand. When you choose to add the Seal King lineup to your hardscape products category, know that you are not just buying a product, but the infrastructure and the people that support it.
Our key product features are engineered to protect, fortify, and ultimately withstand the test of time—and just like the features of our products, our business philosophy adopts the very same principles.
PROTECT:
We will protect our distributors' best interests by delivering on our promise of quality, paramount support, and fairness.
STRENGTHEN:
We will strengthen our relationships with our distributors by introducing new and appealing incentives that are designed to drive traffic to your location and enhance the customer's experience.
TIME:
We are in this for the long haul; we are forward thinkers who firmly believe in lifelong professional relationships that are meaningful and yield profitable results. We are a boutique company that cares about our distributors' outcomes and values the benefits of managed and organic growth.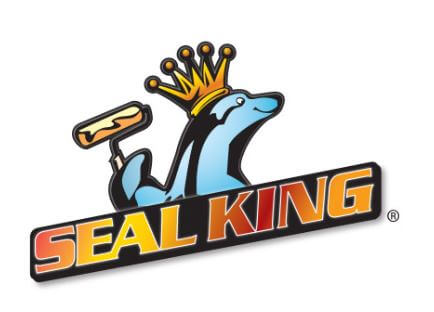 WHAT'S IN IT FOR YOU?
SUPPORTED ADVERTISING INITIATIVES
We are aware of the importance of marketing and advertising in both online and offline platforms. As your premium supplier of sealer and hardscape protection supplies, we are adding value to your brand by engaging in the following marketing initiatives.
ONLINE PRESENCE—OUR NEW WEBSITE
Our newly designed website offers all the same product information as its predecessor; however, our new website is built with enhanced features and engaging content designed to educate, locate, and convert. We educate our users by continually adding useful content that demonstrates the ease of application for several of our key products. This strategy showcases Seal King as a friendly brand that is loved and trusted by homeowners. The locate feature directs the user to Seal King's partners (you). This exchange of information is designed to bring customers to your store and convert online traffic to sales.
ONLINE—LEAD GENERATION TOOLS FOR YOU. "TRAFFIC GENERATOR" AND RECIPROCAL LINKS
Our website is designed to drive online traffic to your website or physical store. We do this using our state-of-the-art, no-nonsense online product finder. Every time you choose to carry a Seal King product—whether it is one SKU or the full line–your website and corporate details will appear in our super-intuitive "Where to Buy" product locator. The goal of this tool is to improve user experience by assigning each product to a specific location. There will be no more disappointed customers showing up at your location and asking for products you don't carry. Users can simply browse for a product, select their country, state, or province, and locate their closest city retailer. Each product you carry means your business details will show up on our website, which will improve your search engine rankings.
ONLINE—AWARENESS: GOOGLE SEO
SEO stands for Search Engine Optimization. Our purpose is to match a question to an answer, engage in conversation, and, most importantly, get indexed on the world's leading search engine. Seal King invests a considerable amount of time, money, and resources ensuring it has a highly optimized website that is filled with relevant content and clear calls to action (e.g., "Buy it at your location").
ONLINE—AWARENESS AND SOCIAL MEDIA
As with any form of advertising, the message should always support the main business objectives. During peak periods, Seal King will roll out a variety of social media campaigns that are relevant to our products. Engaging topics include application tutorials (videos), before-and-after photos, and Seal King's showcase homes.
OFFLINE—BROADCAST TELEVISION
Seal Kings creates awareness by utilizing Canada's leading ethnic media company; since 1984, Telelatino Network Inc. has owned and operated the TLN Television channel. TLN can be seen nationwide in over 6.2 million Canadian homes and broadcasts a wide variety of Canadian and international programming in English, Spanish, and Italian. TLN's family of channels includes seven owned and operated channels as well as Canadian representation of four additional Hispanic channels. The channel offerings include six Spanish-language TV channels (Univision Canada, TeleNiños, Cinelatino, Centroamerica TV, WAPA America, and Television Dominicana), three Italian-language channels (Mediaset Italia Canada, TGCOM 24, and TeleBimbi), and an English-language sports channel (EuroWorld Sport).
OFFLINE—TRADE SHOWS
Seal King firmly believes in the power of human interaction and the benefits of speaking with our customers face-to-face. Our event marketing initiatives allow us to demonstrate our products firsthand and gather valuable feedback from both our distributors and end-users. Each year, Seal King exhibits at four of North America's most popular home shows: the LO Congress Show, the HNA Show in Kentucky, the National Home Show, and the International Home & Garden Show in Toronto.
OFFLINE—ORGANIC ADVERTISING POP-UP DEMONSTRATIONS EVENTS
Do you have a lot of customers asking questions about how to seal their paving stone(s) or how to prevent weeds on their interlock walkways? Ask your representative about our exclusive Seal King pop-up events. Pop-up events are informative in-store product demonstrations designed to educate the end-user on the benefits of Seal King's products and ultimately convert them to sales.
SERVICE, SUPPORT, GUARANTEES
FULFILMENT:
Order fulfillment time is less than 48 hours. If it doesn't get there in 48 hours or less, a 5 percent discount will be applied to your invoice (Ontario only).
OUR TEAM:
Our robust service infrastructure houses 15 full- and part-time employees. Our team is composed of chemical engineers, account representatives, business development executives, and administrative staff. Feel free to connect with us on LinkedIn or directly from our website.
QUALITY AND WORKMANSHIP GUARANTEE:
The full line of Seal King's products are engineered, manufactured, and packaged in North America. Our lead chemical engineers continually test each product for consistency in quality, strength, and resilience.
LET'S SEAL THE DEAL.
Please send us a few details about your business and we will get back to you within 1 business day.